Life After the Job: Michael Smith MBE
Roads policing officer's spare time drive to reduce murder rate
Anti-weapons charity founder speaks to PoliceOracle.com about working eight hours a day in his spare time to try to reduce gun and knife deaths.
Michael Smith MBE, founder of Word 4 Weapons
"It costs £1.6 million to investigate a murder. It costs £46,000 to keep a young person in jail. A knife bin costs £7,000 a year."
Former Met PC Michael Smith this week collected his MBE for the contribution he has made to the reduction of gun and knife crime.
He retired from the force last year - after 22 years of service - during which time he was a traffic officer.
His efforts to reduce murder actually happened his spare time while he was working "eight hours a day for the commissioner and eight hours for Word 4 Weapons".
He says the charity he founded has taken 20,000 knives and firearms off the streets since 2007.
Its biggest initiative is the installation and maintenance of weapons bins. In exchange for handing in a weapon, an individual receives a "goody bag" with educational materials to steer them away from crime.
Among the items handed out are bibles - the charity having been set up due to Mr Smith's faith.
He joined the Met in 1993, having been a special in the City of London for two years prior to that. Although working on traffic, latterly with enforcement cameras, the scourge of murder in the capital was always at the forefront of his mind.
"I heard about knife crime every day, because I wasn't in the department working on knife crime or anything I'd hear it on the news. It seemed to have become a regular occurrence, and I had to try and address it," he says.
The 55-year-old acknowledges that as a police officer tackling such issue he would not be able to do what he does through the charity - namely encouraging people to swap their weapons for "the word".
After what he says was a "bit of a struggle" over the issue, he founded Word 4 Weapons in an attempt to achieve this.
Headquartered in London, it works with the Met in some boroughs, but he says it has had a better reception, and more funding success, in the West Midlands.
Aside from the religious element, he says the charity is genuinely rooted within the communities it is based and could help bridge the gap by "letting them feel part of what we [the police] do".
It was because of tensions between the black community and the police that he wanted to join the job in the first place, hoping to "be the change he had wanted to see" - but he feels there has not been as much progress on the issue as he had once hoped.
With more funding - which he ultimately believes should come from the Home Office - he says other initiatives, such as having Word 4 Weapons volunteers search for hidden weapons on housing estates, could help.
"You only need to pay them travel expenses and maybe refreshments. That is much cheaper than having PCSOs, PCs, sergeants and inspectors involved. And in this time of budget cuts you could save police time and police money, and people feel involved in what is happening."
But there is a reticence about giving the charity as much money as it has asked for from some quarters, which he puts down to officials' attitudes towards Christianity.
"They say they have to be fair to all faiths, so they don't want to give us more funding," he says. "England is a predominantly Christian country, so that's not being fair, that's making a mistake by excluding the majority of the nation for a minority."
When asked why he doesn't therefore compromise on the overtly Christian nature of the charity if he feels some in power are put off by it, he said that the organisation had changed its logo - which used to feature a cross prominently.
"Soon we are going to have a tick box form on our website and people can tick all the things they want to receive in a bag. If someone doesn't want to receive the bible they don't have to, they can just have an empty bag if they want," he added.
"However people have said to me 'would you give out the Koran'? No because that's not what we're about. If a Muslim organisation wanted to put bins out and do what they do, that's for them. We're a Christian organisation, and we want to save lives."
And while being nominated for the honour he's receiving this week came as a shock, he says he is just carrying on because saving lives is the most important thing.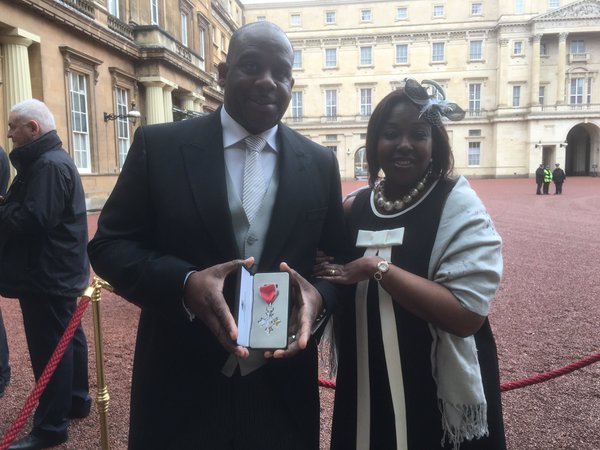 Former @CityPolice Special today received MBE for anti knife & Hun crime charity @word4weapons